Millipore Contamination Kit
Millipore Contamination Kit Introduction
Millipore contamination analysis kit consists of assorted Millipore filtration products suited for contamination measurement and control. Millipore Test kit is recommended for ensuring conformance to cleanliness standards popularly known as the "Millipore Value". The kit includes the apparatus shown except standard equipment such as weighing scale, drying oven, microscope, Petri dish, membranes, grounding set, etc. Available in two versions: Basic kit and Professional kit
---
---
---
---
Non Reflective Particle Classes
| Sl. No. | Feret Max Low (um) | Feret Max High (um | Particle Count | Normalized count | ISO 16232-7 Code |
| --- | --- | --- | --- | --- | --- |
Reflective Particle Classes
| Sl. No. | Feret Max Low (um) | Feret Max High (um | Particle Count | Normalized count | ISO 16232-7 Code |
| --- | --- | --- | --- | --- | --- |
Fiber Particle Classes
| Sl. No. | Feret Max Low (um) | Feret Max High (um | Particle Count |
| --- | --- | --- | --- |
Parameters of largest particles
| Sl. No. | Feret Max (um) | Area (um 2) | Perimeter um | ECD (um) | Particle Type |
| --- | --- | --- | --- | --- | --- |
Supply Of Sample Preparation Kit
(Millipore Contamination Analysis Kit)
Basic to Professional : "Millipore Value"
Millipore contamination analysis kit consists of assorted Millipore filtration products suited for contamination measurement and control. Millipore Test kit is recommended for ensuring conformance to cleanliness standards popularly known as the

Vacuum / Pressure Pump
This oil free pump is a portable AC powered source of vacuum to 585mm/ 23" Hg (at mean sea level) or pressure to 4 bar/ 58 psig for filtration of liquids or gases or other continuous or intermittent use with all types of filter holders.
Air flow rates at different vacuum and pressure settings are given behind (for vacuum operation, pump exit pressure is 1 atmosphere).
The motor is permanently lubricated, and is protected by a thermal overload switch with automatic reset.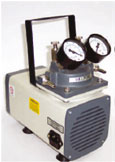 ---
Solvent Filtering Dispenser
Ultra clean and dispense small volumes of solvent/liquids by squeeze bottle action. Hand pressure operated dispenser with filter holder fitted with a delivery tube used to direct filter solvent/liquids against surfaces. Flask is made of borosilicate glass, neoprene bulb, stopper and SS filter holder with teflon gasket which is meant to accommodate 25mm Membrane filters.

Hydrosol SST Filter Holder
Vacuum filtering liquids for analysis of particulate or biological contamination analysis via vacuum filtration. Funnel, base and support screen are made of SS, anodized locking ring, Teflon gaskets, grounding set and silicon stopper.

---
Dispensing Pressure Vessel
Dispensing Pressure Vessel holds liquid for filtration through Millipore pressure operated filter holders, if connected to an external pressure source. Body and fittings are made of 316 SS, Viton O-ring and base is moulded with Styrene butadiene rubber.
Vacuum Filtering Flask
Used for vacuum filtration with Millipore filter holders. Side arm connects to vacuum source with vacuum hose. Also used as water trap to prevent liquid/ mist entering the pump.

---
Filterjet Solvent Dispenser
Used to spray concentrated jet of ultra clean solvent or rinse solution on surfaces for cleaning. SST filter holder with support screen is meant to accommodate 25 mm membrane filters

Filter Forceps
Used to handle Millipore Membrane filters without damage using highly polished SS forceps blades with beveled, unserrated tips.
---
PetriSlides
Holds filter securely in place. Transparent cover allows microscopic examination without removal. Rectangular base has rounded corners for mounting on microscope stage. Recommended for storage.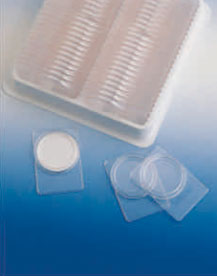 Vacuum Trap
During the vacuum filtration of liquids, to prevent liquids or mist entering the pump, Millipore recommends use of vacuum trap between vacuum pump and filter holder. This assembly consists of vacuum filtering flask, silicone stopper, glass tube and vacuum hose.
---
---